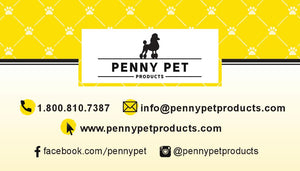 For more than four decades, our dedicated team has been deeply involved in the pet industry, witnessing its growth and evolution. Throughout the years, we have proudly introduced, sold, and designed a wide range of products tailored for our beloved furry friends. Our extensive experience has allowed us to collaborate with numerous companies, assisting them in successfully bringing their pet-related products to the market.
Driven by our profound love for dogs, Penny Pet Products was born out of a passion to establish a brand that would not only stand out as one of the finest in the industry but would also offer affordability without compromising on quality. We understand the importance of providing pet owners with reliable, durable, and safe products, and that's precisely what Penny Pet Products aims to deliver.
At Penny Pet Products, we have carefully crafted a collection that combines exceptional quality with reasonable pricing. We believe that every pet deserves the very best, and we strive to make our products accessible to all pet owners without breaking the bank. From comfortable beds to interactive toys, stylish accessories to nutritious treats, our comprehensive range of offerings is designed to enhance the well-being and happiness of your furry companion.
We invite you to experience Penny Pet Products and see the difference for yourself. We are confident that your pooch will appreciate the attention to detail, the commitment to quality, and the affordability that our brand embodies. Join us on this exciting journey and discover why Penny Pet Products has quickly become a trusted name among pet lovers everywhere.